The Value of Master Key Systems
03/31/2014
Back To Blog
Large buildings with a single superintendent being responsible for everyday errands require a master key system. What will happen if a water pipe breaks and the superintendent doesn't have the key to your apartment? These systems are mostly useful in big office buildings, where workers don't have the time to worry about cleaning services and similar problems. The janitor ought to have a master key to enter all offices and keep all areas tidy. The security manager must also have access to all areas of the company while employees have restricted access. Though, is lock rekey possible with these systems and how convenient are they?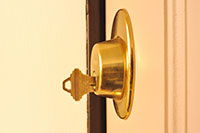 The advantages of master keys
One master key opens all door locks and each door will also open with the change key. That's the entire philosophy of the master key system. It is a very convenient system in many variations and it is also applied in smaller scale systems like file cabinet locks. In this case, drawers can be opened by one single master key. In some cases, some of the change keys will need to open more than one specific door. Let's say that you hold on to your own change key of your private office at work but also access is granted for the conference room. In this case, your change key will open both doors and these are the complications, yet advantages of master systems.
So, what will happen when the superintendent is caught stealing and he is fired? Wouldn't you need key change? Well, that's absolutely possible with master keys as well as with any other key. These systems can be repaired, the keys can be replaced if lost or damaged and the locks replaced. Any changes in your current life that will demand the restriction of some areas in the company to certain employees will be possible. You won't be confined by the limitations of the current capacities of the system. For this reason, it's popular in all its variations and makes people's lives easier.